BOUQUET SUBSCRIPTIONS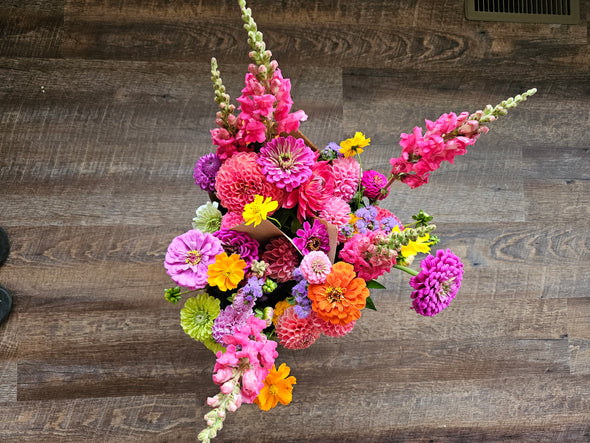 Sorry you missed it!
Check back in 2023 for Subscriptions.
I know what you're thinking because I was there too!



"I don't have a green thumb."
"I love flowers but can't grow them where I live."
"I don't have time for growing OR picking flowers."
"I just want something pretty for my table in summer."
You will love excitement of opening the door to a colorful bouquet of fresh cut flowers!


~~~~~

HERE'S THE DETAILS:

WHEN: Subscriptions begin in April/May with early spring blooms and end in late September but may vary depending on the weather. 

HOW: Your bouquets will be delivered on the same day each week to your home or business. The day of the week will depend on your location and how it fits in our route.

Deliveries will be placed in a jar of water you provide on the stoop of your home (in the shade) or at the front desk of a business/nursing home (we do not go in apartment buildings). 


WHAT:  I will email you when deliveries are going to begin which will be based on the availability of the first blooms. The varieties in your bouquet will depend on what is blooming at the time.



Check out this 5 Star Review from a subscriber's experience of my delivery service. So grateful!
"The bouquet subscription service brings a ray of farm-grown sunshine into my home every week this growing season. The bouquets are fresh, colorful, and full of variety. Each week, a new bouquet arrives on my doorstep with a hand-written inspirational message. The flowers are picked at the peak of freshness, as they are often enjoyed until the next bouquet arrives!" - Kristine D.
~~~~~~~~~~
FINE PRINT
No refunds on subscriptions. By purchasing a subscription, you are helping our farm continue to provide healthy soil, quality blooms and a sustainable business. You are welcome to gift your subscription.

If you will be gone on delivery day, you can gift your bouquet to a neighbor or we are happy to deliver it to a local nursing home (New Richmond only).

Farming is subject to the weather and natural disasters. We will do everything we can to grow the best flowers for you… but we cannot control things like hail, strong winds, freak frosts or bug infestations that can wipe out our crops. 
Sorry, there are no products in this collection